Custom fields can be used to capture additional specific information to your organisation to be collected during the registration process.
Custom fields can be created as a textbox and dropdown list and can be created by administrators of state organisations, associations, and clubs. These can be set to display to each participant role type (eg. player, coach, and team manager).
For an association or club, custom fields are configured on a competition/season basis. Whereas a state organisation can also configure customer fields at a global level for competitions. This enables custom fields to appear during the registration process of every club and association within the state. These are viewed in the General settings area.
Creating a Custom Field
To begin, navigate to Competition Management located in the main menu on the left-hand side, then select the appropriate Competition and Season tile. Once you have done this, select the 'Registration' tab and then the 'Custom Fields' sub-tab. Here you can add, view, edit, and delete custom fields.

Select the 'New' button to add a custom field for the relevant registration (participant or team). Under the complete the Details, including the Field Label, this usually a question or statement which will require a response throughout the registration process. There are two options for the Type of response; Dropdown List, which can provide multiple custom response options, or a Text Box, which requires a typed response. You can also choose whether the field requires a Mandatory response by selecting or deselecting the corresponding check box.


When setting the Display configuration, you can select and customise which registrations the custom field will appear on, such as Players, Coaches, Team Managers, Volunteers and Officials. When configuring the settings, you will be able to choose if clubs can view and edit the custom field and which registration form it will appear on.
Once you are satisfied with the settings, select 'Create' in the top right-hand corner. The newly created field will then appear on the Custom Fields page.

If you wish to ask additional information based on the answer to a previous question, you can then add a Conditional Custom Field.
Conditional Custom Fields
To allow for a positive user experience, we recommend keeping the number of custom fields as low as possible and only using conditional customs field if it's necessary.
The purpose of a conditional custom field is to link the field to a response from a previous created field (the parent field).
You can link up to three custom fields together, however, to enable this feature, the first custom field must be a Dropdown List type.
All subsequent fields can be either a dropdown or text box response depending on how many questions you want to link together.
Please note: A text box cannot link to another text box type field.
To create a conditional custom field, select 'New'.

Fields beneath a parent field are known as child field. As mentioned previously, this will be displayed based on one of the responses from the parent question.
Creating a child question is similar to creating a parent question, the Details section enables you to add a response or follow up question.

Once the details have been entered, you will need to activate the Conditional field toggle. Select which parent question or field and option you would like to link to.
Once you are satisfied with this, select Create in the top right-hand corner.

You will then arrive back at the Custom Fields page.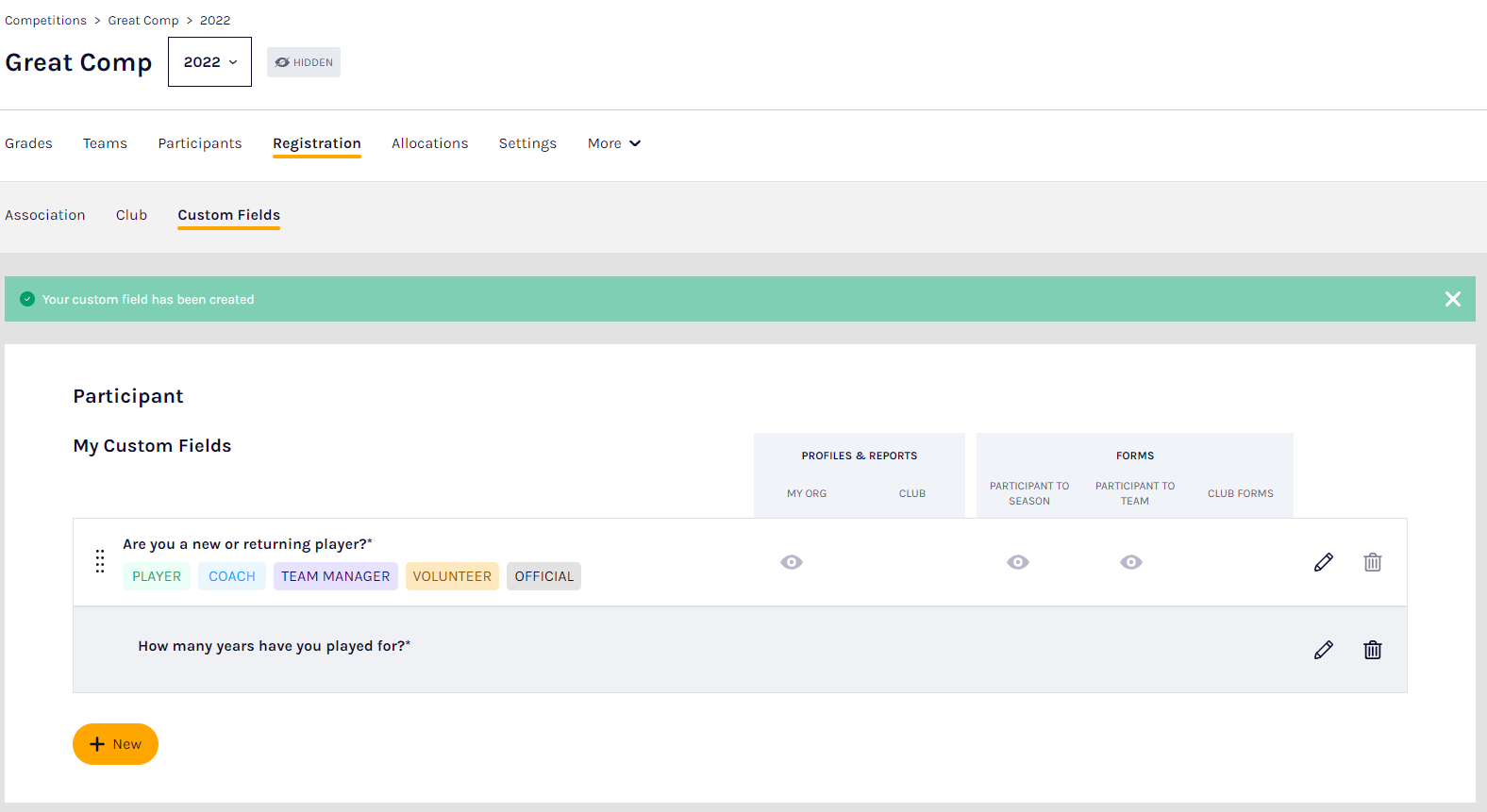 When registering, any custom fields created by a national or state organisation, association, or club will appear in the Additional Details section, these are known as Inherited custom fields and cannot be edited or removed.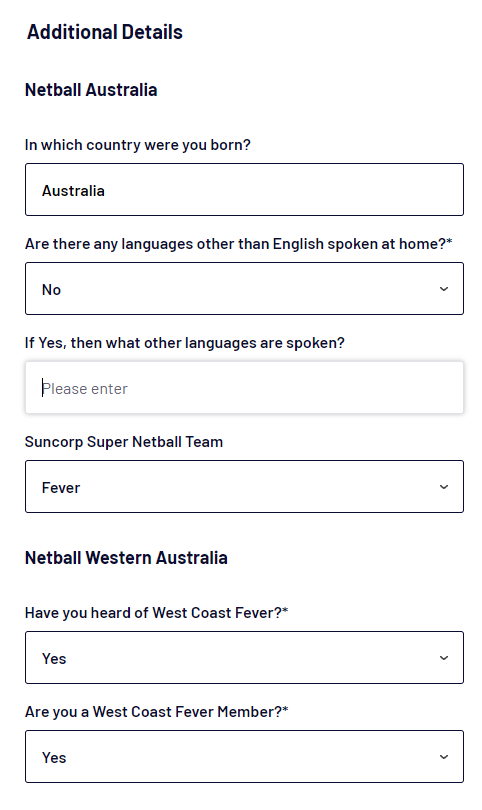 Collecting and Viewing Custom Field Data
When a registration has been completed, the responses can be viewed by selecting the appropriate participant. Under the Registration History tab within the participant's profile, select the expansion arrow to view the responses. These can be edited if required.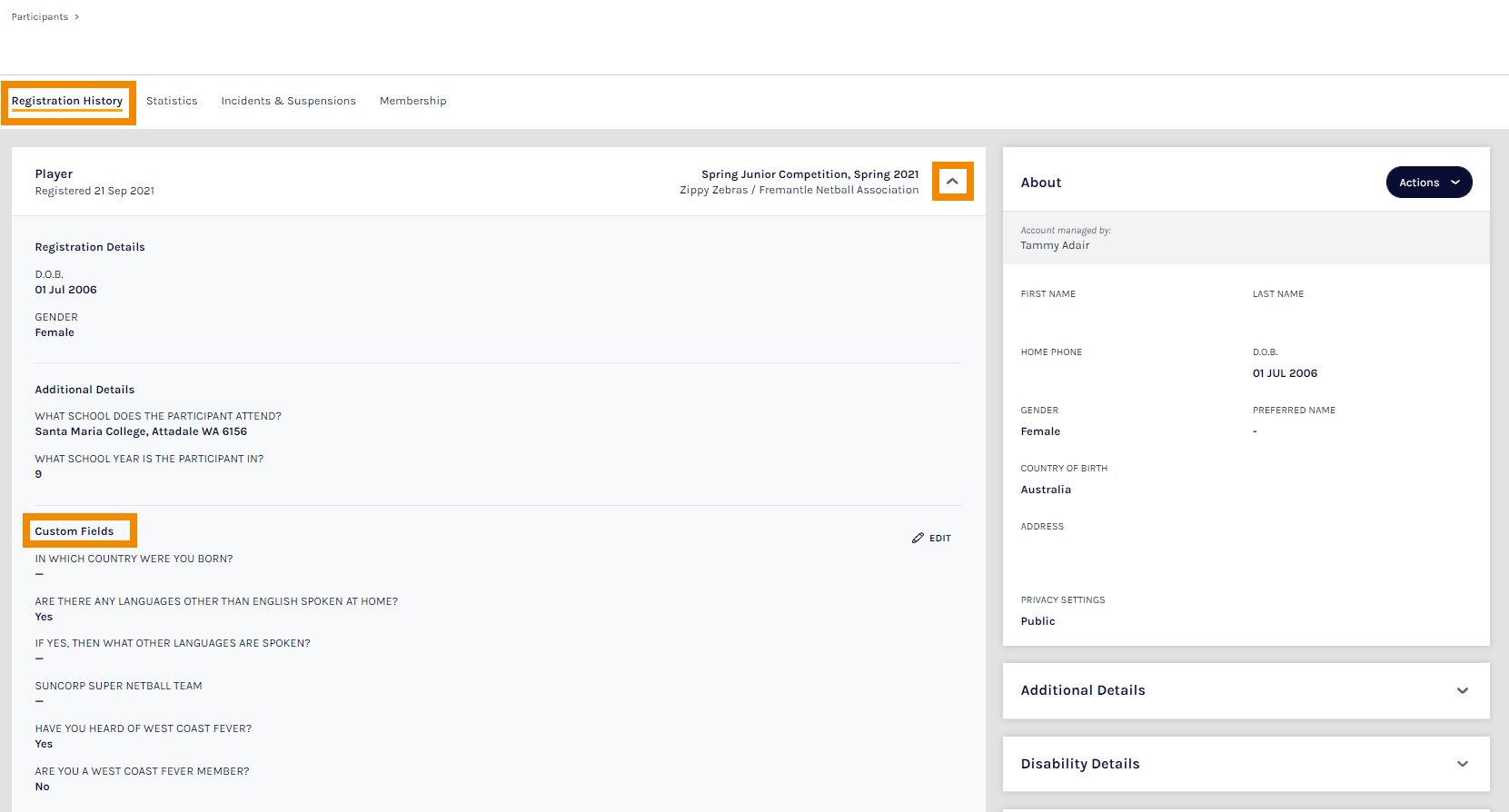 Editing Custom Fields
To edit a custom field, select the pencil icon on the right-hand side.

Make the required changes and then select Save.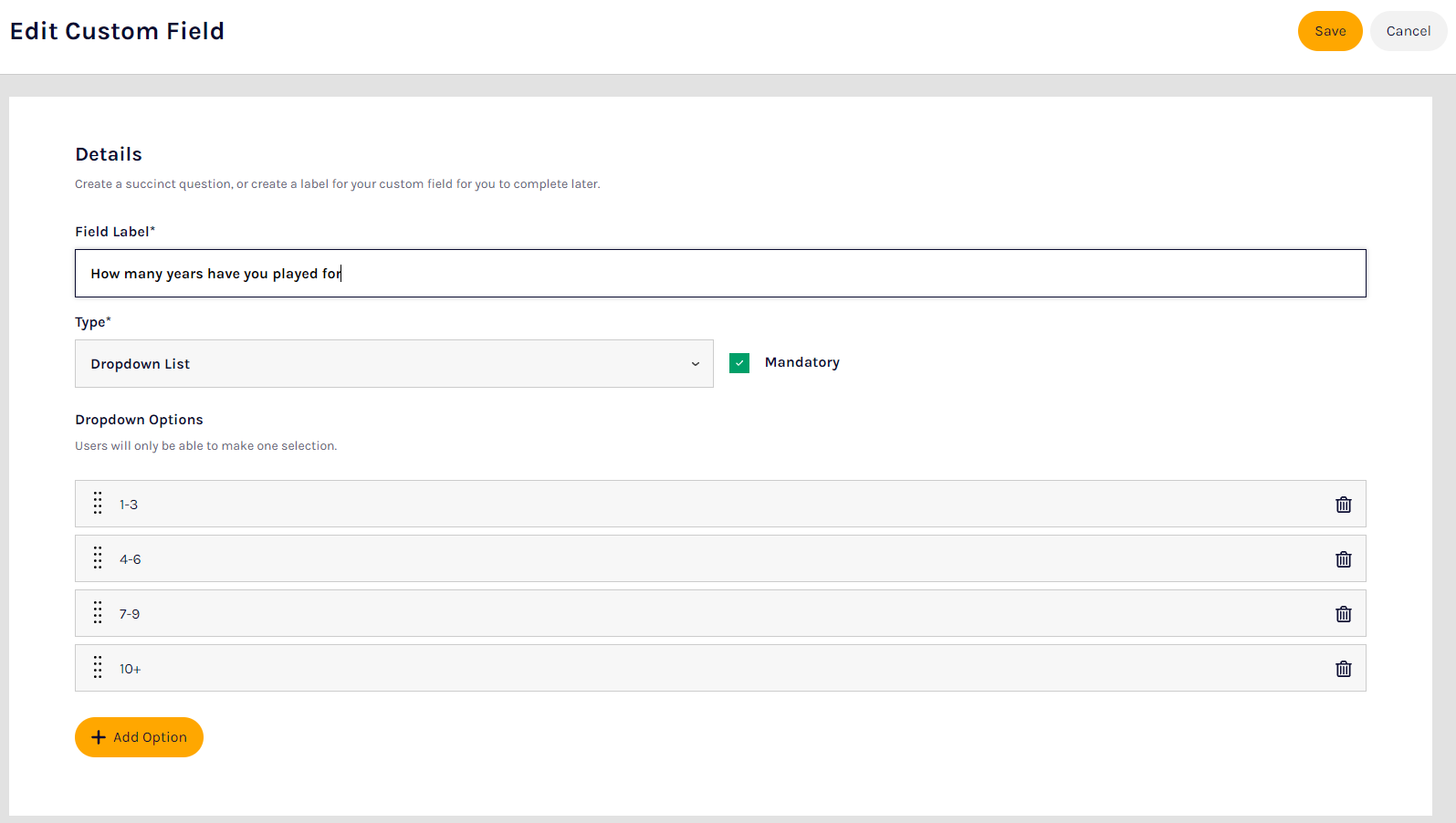 Please note: A custom field can only be edited by the organisation that created it.
Editing a custom field after registrations have opened, can impact existing data. If ay data will be removed permanently upon editing, then a warning message will appear before you are able to proceed.
Reorder Custom Fields
You can reorder custom field to change the order of appearance on registration forms and admin portal pages.
To do this, select and hold the custom field on the left-hand side, then drag the custom field to the desired position.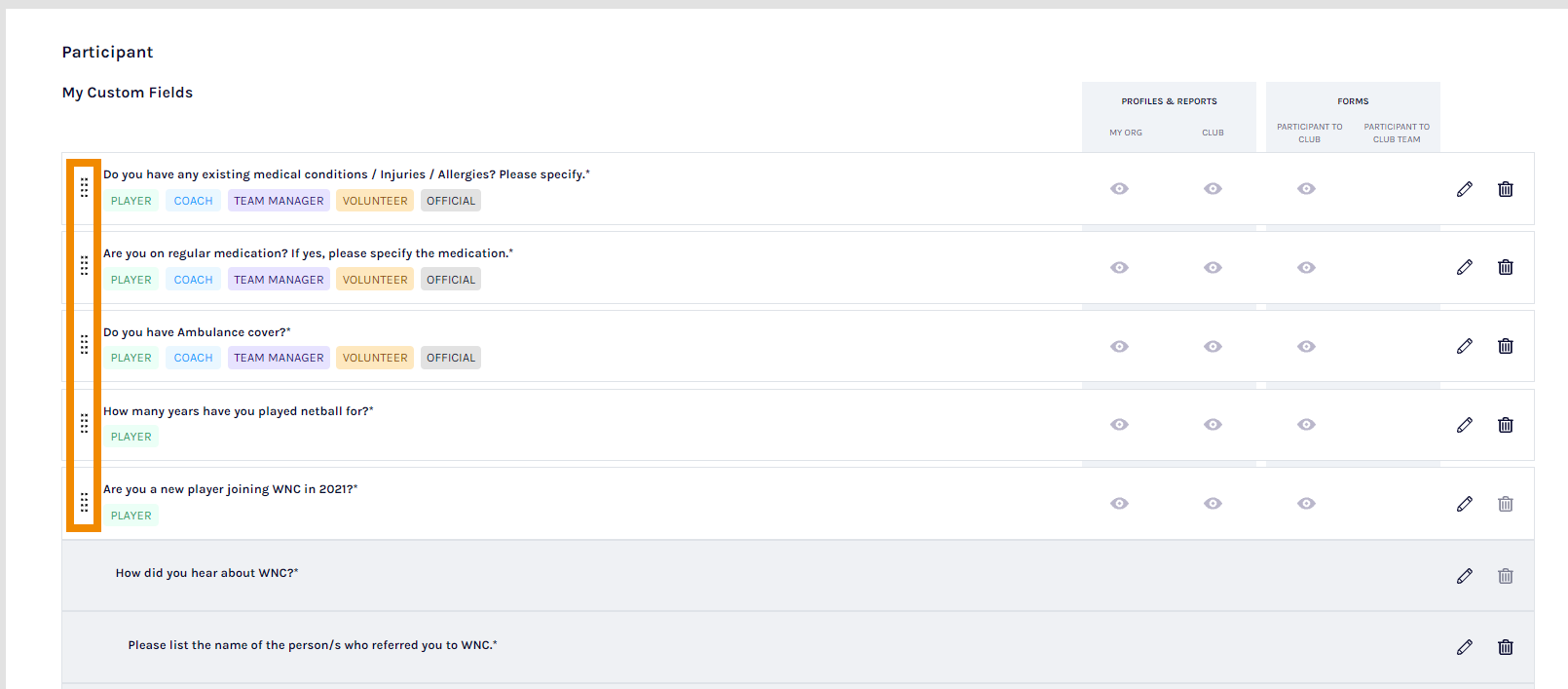 Remove Custom Field
Please note: Removing a custom field will remove the field and any data collected for that field.
To remove a custom field, select the delete/bin icon associated with the appropriate custom field.

If no data has been collected, a popup message will be displayed. Select Remove Custom Field to remove or Cancel to return to the previous screen.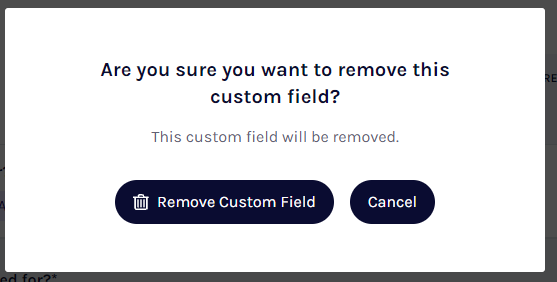 If data has been collected for a field, a red warning message will appear.
Important: Please note that if you confirm to remove a custom field with data collected all data collected for that field will be permanently removed. If you wish to remove the field but retain the data, select Cancel then edit the field and toggle the field's registration form visibility settings.
Reports
Custom fields are added as columns within a Participation Report. These will appear in the same order as they are listed in the registration form set-up section. To access this report, select Reports in the main menu on the left-hand side, then select the Competitions tab and scroll down to Participation Report. Fill in the required fields and select Generate, the report will then be saved to a location on your device for you to open and view. For more information about reports, click here.