From your Internet browser, navigate to the sign in / account creation page. This can be accessed through the link below:
Australian Sport Learning Centre: Log in to the site (netball.com.au).
You can use a trusted provider such as Google, Microsoft Edge, Firefox, or Safari.
Resetting your Password & Activating an Existing Account:
Sometimes issues can occur when trying to login into the Netball Learning management system. These issues can include:
My login isn't working / I can't remember my password
I registered with an incorrect email address
I can't remember the email address I registered with
I can't find my login details
The easiest way to resolve such issues is to reset your password. To do this, select the Forgot username or password? link below the log in section. You will also need to do this if you are wanting activate your account from the old learning system.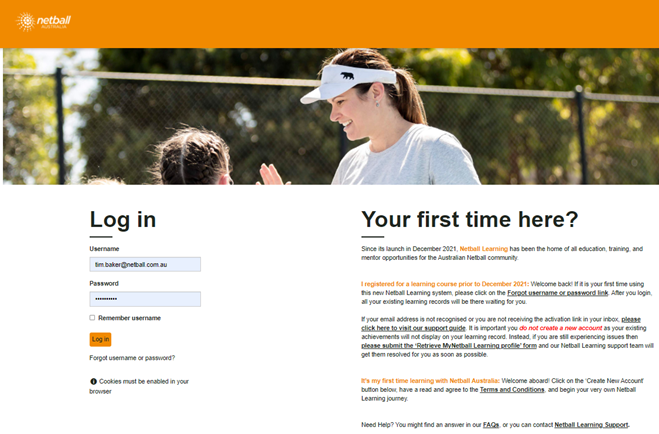 From here you will then be directed to the Find your Account page. Enter the email address you used to sign up to Netball Learning (or that you assigned to your profile in the old learning system) and select the Search button. For the majority of learners, their username will also be the assigned email address.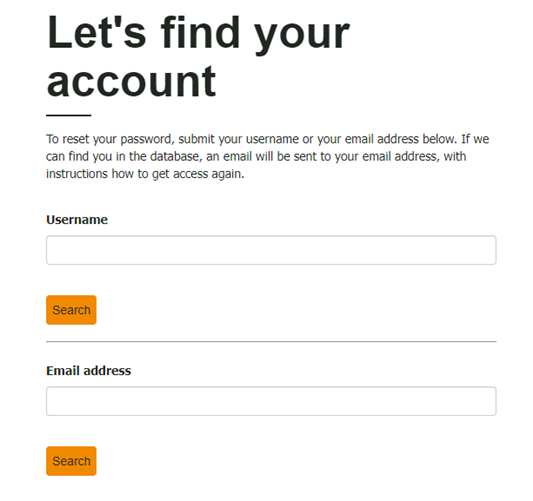 If the provided email address can be found in the system, a follow up email will be sent to this address with a link to reset your password.
If the previously mentioned email isn't received, or if you're unsure which email address you have assigned to your account, please contact the Netball Learning team via the Retrieve MyNetball Learning Profile support form here: Submit a request.
If the email isn't received and you think there may be multiple accounts assigned to the same email in the old learning system, please fill in the Retrieve MyNetball Learning Profile form with the new details for each Learner, including a unique email address for each profile. This form can be found here: Submit a request.
Editing your password
Changing your password regularly is one of the most effective ways to protect your learning account. Netball Australia encourages password changes by emailing notifications when your password is due to expire:
Tips for setting up a strong password:
Use a unique password that is hard to guess

Use a combination of numbers and symbols

Use a password that you'll be using only for your learning management account

Keep your password secret. We'll never ask for your password by email, instant message or phone
Once logged into your account, select the drop-down menu next to your name in the top right-hand corner of the screen. From here, select the profile option.

Then select Preferences underneath the Administration heading.

You will then need to select Change Password.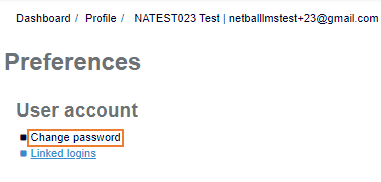 Follow the prompts on the next screen including inputting your current and new passwords. Select the Save changes button to confirm the update.

Updating other profile details
For more information on how to update other details in your profile, please click here: Updating Profile Information.